The First Five Days of Having Braces – Updated for 2018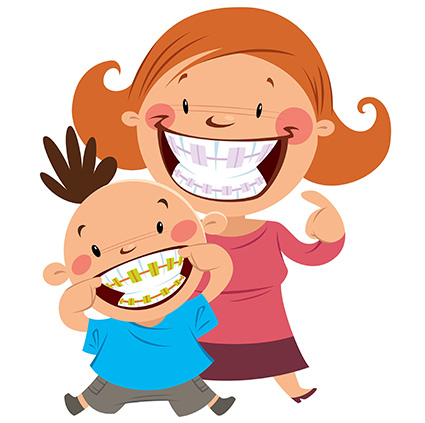 In this post we wrote in 2013, we discussed what you can expect from your first few days after getting your braces in. Five years later, a lot has changed! After all the augmented reality, Marvel movies, and avocado toast that has happened since then, we felt it was important to update this post for 2018.
When you first get your braces in, you might not be sure of what to expect. And we feel like it is a lot easier to manage those first five days of braces if you know what's going on! It's even a good time to revisit good oral-care practices and turn them into habits. Here are 12 things to expect and tips to help ease the adjustment period:
Braces will feel strange to your lips and tongue. It's normal to be a little fidgety, moving your lips over the braces, or touching the braces with your tongue. But within a day or two, this type of "checking it out" activity will go away.
You might notice excess saliva, and feel like you have to swallow a lot. This is because our mouths treats new braces like it's food. This shouldn't last too long – maybe 20 minutes to a few hours after the braces are placed.
Your bite will feel different as the teeth move. If you have lower braces, you may also have "bite bumps" or "bite turbos", little braces or bonding buttons on the inside or on the biting surfaces of some teeth. These are designed to prevent you from biting hard against your braces and may take 3-5 days to feel "normal".
The "glue" that holds the braces on your teeth is similar to the material we use to fill teeth. It is strong, but it takes up to 48 hours to set completely. Softer foods will be easier to eat, while also allowing the braces to set
Keep reviewing the "dos and don't" guide that we give you. In these first five days, you might be tempted to eat hard and sticky foods. But you must avoid them, because they could break your braces and ultimately lengthen your treatment time.
Take a look at all of the items we have given you to help keep your teeth clean and comfortable. You can also get many of these items from the pharmacy. Clean teeth and gums are more critical when braces are on your teeth.
Brush your teeth at least twice a day, if you don't already. For bonus points, brush after lunch too! We strongly recommend also checking up on your teeth with a lighted magnifying mirror, like a make-up or shaving mirror.
Parents – check on your child's brushing at least once a day for the first few days! They might be missing some key areas where food and debris get trapped, and you'll want them to be able to catch these spots themselves.
As always, young patients between 7-17 should be rinsing with a fluoride rinse before going to bed. And this should continue even after the first five days!
Most patients have no need for wax – and we actually want the lips and cheeks to toughen up during the first 5 days of braces. If a sore develops and you want to use wax, do so by drying the irritated area and pushing a little piece of wax onto the rough spot.
The new high technology wires are activated by body heat. So if your new braces feel really tight, try rinsing with ice water to temporarily reduce the pressure. But if you do this …do NOT chew the ice!
In those first few days, your teeth might feel sore. While most of our patients don't take pain medication, you can relieve the ache by taking an age-appropriate non-steroidal anti-inflammatory drug, like Advil or Motrin according to a physician's recommendation.
You are on your way to a healthy good looking smile….and any temporary inconveniences will be well worth it in the end!