Roswell School Cafeteria Meal Guide
Now that we're going back to school for the spring semester, it's time to start thinking about what your child will be eating at school! If your child has braces, it may be easier to pack their meals for them to ensure that they have access to foods that they can safely eat with their braces. However, the Fulton County school cafeterias in Roswell, GA serve lots of options for breakfast and lunch that are braces-friendly. We've taken a look at the schools' menus to help you advise your child so that they can make healthy, braces-friendly choices!
Elementary Schools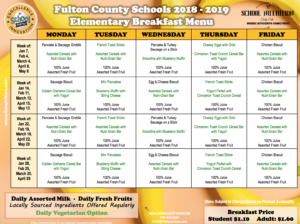 If your elementary school student is eating breakfast on campus, most of the options available to them are actually braces-friendly! The only issue is that most of the options are very high in sugar. For example, on most days the main breakfast options is either french toast sticks or pancakes, with sides like fruit and sugary cereals. However, there are also main dishes like egg and cheese biscuits and sausages on the rotating menu. While your child may want to cut the breakfast sandwiches into smaller pieces to minimize tearing, these options contain nutrients like calcium and protein that will keep them full and ready for their morning classes. When choosing a morning beverage, suggest that your child opts for milk instead of juice to cut down on sugar consumption and to help them get enough calcium to build strong, healthy teeth! String cheese is also a great breakfast side option, it is soft enough to eat with braces and packs calcium and proteins!
As far as lunch goes, there are also plenty of braces-friendly options for your child to choose from! The rotating menu includes entrees like
Spaghetti

Vegetarian lasagna

Chilli
These entrees are all soft enough to eat with braces and don't require too much bite and tear. Some entrees that your child should be more cautious of are the sandwich and hamburger options and fried meats that may be too tough for them to chew. If your child really wants to have a slice of pizza or a burger, encourage them to cut up their food before eating it in order to make their food easier and safer to chew! It looks like some days the only veggie option is baby carrots, which are very crunch and can damage braces. On these days, consider packing your child a softer option like a small salad or bell peppers so they can still get their serving of vegetables!
Middle Schools
The Fulton County middle schools offer a similar selection of breakfast and lunch items on their rotating menus. If your middle schooler is eating breakfast on campus, be sure to have a conversation with them about choosing a balanced breakfast that will keep them fueled and ready for success throughout the morning. Options like pancakes and french toast sticks are softer and easier to chew than options like sausage biscuits, but once you add the sides like fruit and cereal, you've got a plate full of simple sugars that aren't great for your teeth and won't fuel your body for maximum success. Encourage your child to choose milk over juice and yogurt over cereal. For a boost of protein, they can choose the breakfast sandwich options and cut it into pieces, as egg, cheese, sausage, and the other rotating options can be chewed more easily once they are in bite-sized pieces.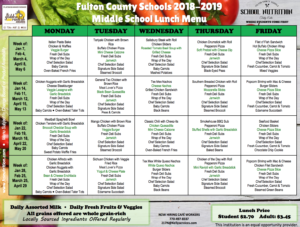 When it comes to eating lunch in the middle school cafeterias in Roswell, the best rule of thumb for students with braces to follow is to choose foods that can be eaten in bite-sized pieces with a fork and knife. Several options on the menu should all be soft enough to cut up and enjoy, like:
mac & cheese

chicken alfredo

chicken nuggets

Italian pasta bake
Just as with the elementary school lunches, you may want to consider packing a soft veggie option for your child on the days when baby carrots are the only veggie option. The middle school menu does offer more side salads, which is awesome!
High School
The high school breakfast menu is similar to the elementary and middle school menus but with a few extra options! High schoolers with braces can enjoy breakfast choices like fresh fruit smoothies, muffins, and cheesy egg scrambles! These are all great options because they are soft and won't damage braces. Other choices like biscuit breakfast sandwiches may also be suitable, as long as your child disassembles them before eating them to avoid tearing. Encourage them to limit their processed sugar intake, opting for milk instead of juice and fresh fruit instead of sugary cereals.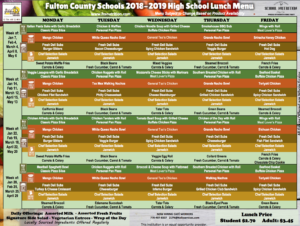 The high school lunch menus have a lot of sandwich options, which can be difficult for students with braces to eat. Encourage your child to disassemble their sandwich or burger and eat the contents with a fork and knife! Pizza is also a frequent option that can be cut up into easily chewed pieces. The high school lunch menus offer a lot more veggie options, like
collard greens

steamed broccoli

green beans
Cooked options like these are great for students with braces. The great menu selections offer high school students the opportunity to make healthy choices for their bodies and their braces!
Schools like McClarin High School, Independence High School, and the College and Career Academy have slightly different menu rotations, but the offerings for breakfast and lunch are very similar to the rest of the schools in the district.
If your child is eating meals at school, ensure they have packed a toothbrush and toothpaste in their backpacks so that they can properly clean their braces after their meals. If you have any questions about your child's braces-friendly diet, schedule a consultation with our office today!