10 Fun Halloween Costumes With Braces
We're just days away from Halloween. Are you still stuck trying to decide on the perfect costume? Instead of going with the same old standbys or trends this year, why not let your braces take center stage by building your Halloween costume around them?
We took a dive into pop culture to find 10 Halloween costumes for you. These are all based on braces, easy to pull off, and sure to steal the show!
1. Josie Geller – Never Been Kissed
This 90's rom-com features Drew Barrymore as a journalist who goes undercover at a local high school. Reliving her own high school years through flashbacks, her prom memories especially make for a memorable look. You can hit up thrift stores, online resale groups, or eBay for the perfect 80's prom dress. Add a scrunchy for a side ponytail, and frosted pink lipstick will be the only other item needed.
2. Katy Perry -Last Friday Night (TGIF) video
Katy's #1 hit had a catchy beat and a hilarious video. With this Halloween costume, you have two options since the video features her both pre- and post-makeover. For the first, see if you can dig up a denim romper and a plain long sleeved shirt. This one has a side ponytail, too! For the second, it's all about neon. Scope out brightly colored body-con dresses and heels. For the hair, you'll want spiral curlers and LOTS of ultimate hold hairspray – the higher it goes, the better.
3. Ugly Betty
America Ferrera won our hearts with her earnest portrayal of Betty Suarez, an awkward but spunky young woman who lands a high pressure job at a prestigious fashion magazine in spite of her own spectacular lack of style. Betty's got a signature look beyond her braces and red glasses, and it usually includes sweater vests or cardigans paired with high-necked blouses or print dresses. Goodwill won't let you down here! If you really want to take it all the way, grab a dark wig with heavy bangs.
4. Ted – There's Something About Mary
We didn't leave out the fellas! Ben Stiller also employs high school flashbacks in this comedy flick that had everyone talking in the late 90's. High school Ted is pretty easy to pull together – you can go for casual with a striped collared shirt and light blue windbreaker, or formal Ted in his ruffled front tux. Throw in messy hair and you'll be channeling awkward 80's like a pro!
5. Gwen Stefani circa late 90's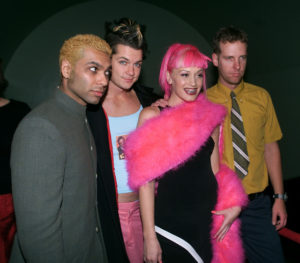 Gwen has reinvented herself multiple times, most recently as a coach on the hit show "The Voice," but one of her most lasting personas came at the height of her No Doubt fame. Even though Gwen only rocked her adult braces with bright pink hair for a short time, it had a lot of impact! Go for a pink wig with choppy baby bangs, and a furry pink boa over any basic black outfit. Pencil thin eyebrows are entirely optional, fortunately!
6. "Ew" Sara (no H 'cause H's are ew!) – The Tonight Show
Jimmy Fallon has had everyone from Ariana Grande to Michelle Obama join him in Sara's Tonight Show basement. He even made an official music video with Will.i.am.! All you need is a spaghetti strap purple dress, pink bow headband and tights, and a blonde wig with bangs for a Halloween costume that definitely isn't new.
7. Lisa Simpson
Lisa Simpson might not be the first character that comes to mind when thinking about braces in pop culture, but she had them for one episode once upon a time. You can impress your friends with your impressive Simpson trivia knowledge when you show up in this cute Halloween costume. Lisa with braces is an easy, and adorable, choice. Look for a strapless red dress, red shoes, and a red bow for the side of your hair. Don't forget the pearls!
8. Kip – Napoleon Dynamite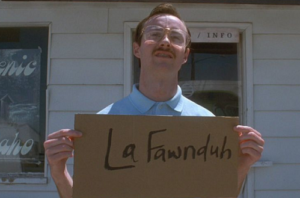 Everything about Kip is funny, and if they'd made a sequel called "Kip Dynamite," I'm pretty sure we would've paid to see it. A neat side part, thick grandpa glasses, and thin mustache are staples with this Halloween costume. You have a lot of options with your clothing choices, though. The most recognizable is super simple – blue polo shirt buttoned all the way to the top, khakis, and of course, your "La Fawnduh" sign.
9. Jaws – James Bond films
No, not the shark! Richard Kiel played an imposing henchman in two of the classic James Bond films. He had prominent steel-capped teeth and a reputation for brute strength, but the rest of his look is easy to pull together. This is another costume that would benefit from a thrift store run. Look for a brown suit, brown suspenders, and bow tie.
10. Marcia Brady – The Brady Bunch
Marcia, Marcia, Marcia! Even if you've never watched the show, you've probably heard this catchphrase before. Marcia was the oldest Brady Bunch daughter, known for her good looks and popularity. When she has to wear braces briefly, it's a real knock to her self-confidence. When her date for the school dance backs out at the last minute, Marcia is convinced it's because of her braces, culminating in a furious speech in which she declares, "I hate EVERYBODY!"
This Halloween costume can come together with very little effort. Make a heavy side part in your long hair (or blonde wig) and pull it into two low pigtails. Find a bulky green sweater and scarf with a 70's pattern (thrift store again!) and pair them with some heavy slacks or a wool skirt. Really make it your own with a handheld "I hate EVERYBODY!" thought bubble.
Finding a Halloween costume that works with your Alpharetta braces is easy and can be a lot of fun! All of these DIY costumes are also budget-friendly, something all of us can appreciate.
Our team here at Newpark Orthodontics understands that sometimes the holidays can be difficult as you adjust to orthodontic work. Our talented team is committed to providing you with the best service, information, and resources. We don't want you to just tolerate life with braces, we want you to enjoy it! Remember we're always here to answer any questions you might have. Have a safe, fun, and happy Halloween!
Related Post: