What is Surgical Orthodontics?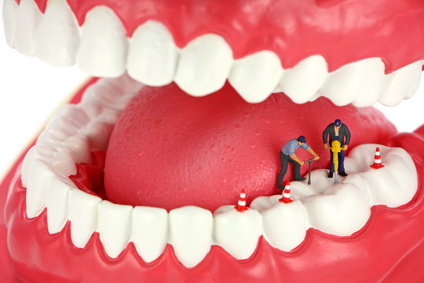 ALPHARETTA, GA – When a person has moderate to severe dentofacial deformities, braces and other orthodontic appliances are not sufficient for correcting the problem. Braces and other orthodontic appliances are helpful, but they will not provide a complete medical solution. An open bite, protruding lower jaw or receding lower jaw, need to be corrected by a team or dental professionals that include an orthodontist, oral surgeon, and occasionally speech or occupational therapists.
The primary reason dentofacial deformities need to be corrected is not cosmetic. Rather, an issue like severe sleep apnea can be fixed with orthodontic surgery where CPAP machines and other techniques have not been successful.
Airway constriction is very dangerous and in some patients the benefits of jaw surgery far outweigh the risks of sleep apnea. Surgical orthodontics can also correct problems such as cleft palate. Dr. Nima Hajibaik, an orthodontist in Alpharetta, has experience in this area and worked at the Lancaster Cleft Palate Clinic, which is the oldest cleft palate clinic in the United States.
Of course, there are cosmetic changes that come along with orthodontic surgery, and a team of doctors will discuss those changes with the patient ahead of time, often providing computer generated before and after pictures. The physical improvements that come with surgery can improve a patient's self-image and increase their confidence in social settings.
When a patient has a jaw deformity, the first step in correcting it is a visit to Our Alpharetta Orthodontist, Dr. Nima at Newpark Orthodontics. He specializes in dentofacial orthodontics and understands the relationship between the jaw and the teeth, and how this affects the quality of life of his patients. It is often necessary to move teeth around, or even remove some teeth, before the jaw can be surgically adjusted. This type of preparation may take several months so it is important for surgical orthodontic patients to realize there is no quick fix to their problem.
Once changes to the direction or placement of teeth have been made, an oral surgeon, certified by the American Board of Oral and Maxillofacial Surgery, will consult with the patient on what can realistically be accomplished with orthodontic surgery. Depending on the type of correction needed, surgery may be performed at a surgical center or hospital.
The healing process is time intensive and patient compliance during recovery is important so that healing is not impeded. Continuation of orthodontic treatment is usually necessary once the jaw has been corrected.
© 2013 Newpark Orthodontics. Authorization to post is granted, with the stipulation that Newpark Orthodontics, an Alpharetta clear braces provider, is credited as sole source. Linking to other sites from this document is strictly prohibited, with the exception of herein embedded links.