Esthetically Pleasing Options to Straighten Your Teeth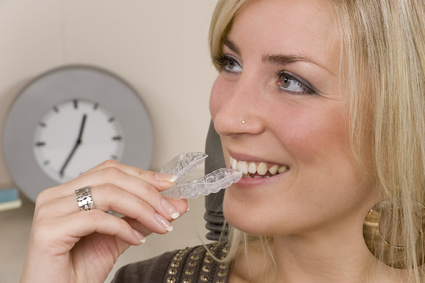 Alpharetta, Georgia – Many adults may desire a straighter smile, but may shy away from orthodontic treatment because they don't want a mouth full of metal. But there is good news – there are more options than ever before in esthetically pleasing braces that both look great and can give you the smile you've of which you've always dreamed.
"Technology in the orthodontic and dental fields is advancing rapidly," says Johns Creek orthodontist Dr. Nima Hajibaik. "Straight teeth not only look better, they function better, as well. Now my adult patients can get gorgeous smiles, without all the hassle of standard metal braces."
Dr. Hajibaik is an Alpharetta Invisalign provider. Since its introduction in the orthodontics world, Invisalign has revolutionized the way teeth can be straightened. And now, with its new SmartTrack technology, it's even better than ever.
"Invisalign takes a modern approach to straightening teeth," says Dr. Hajibaik. "It works to gently guide teeth to their proper positions through a series of invisible aligners. The aligners are custom made for each patient, meaning they are specially made for your teeth and the movement they require. The aligners are comfortable to wear, and are virtually invisible once they are in the mouth."
There are no metal wires or brackets that require tightening and the straightening process is as simple as using a new aligner every two weeks. Each set of aligners is designed to make slight adjustments in the placement of your teeth so that by the end of treatment, your teeth will be in their ideal locations.
Studies have shown that gradual movement is the most effective for moving teeth and keeping them in their new locations. Invisalign elicits a controlled force that only moves certain teeth, so every time you put in a new aligner, you can pinpoint the teeth being moved.
Treatment time varies from patient to patient because everyone's teeth move at different rates. Average treatment time for adults is around 12 months.
To achieve proper movement, aligners must be worn most of the day, totaling 20 to 22 hours of wear. They should be removed when brushing and flossing your teeth, and when eating. That means there is little interruption to your standard daily routine – no paying special attention to the nooks and crannies created by metal braces when brushing, and no altering your diet to accommodate standard braces.
And caring for the aligners is just as easy. You can simply clean them in lukewarm water, or ask your orthodontist about a special cleaning solution you can purchase.
"In-Ovation is another new technology my patients and I love," says Dr. Hajibaik. "The free-sliding technology works faster, and with no uncomfortable and unsanitary ties and elastics as with metal braces."
That means there is no need for your braces to be constantly tightened, which makes the straightening process more comfortable. Just as with Invisalign, In-Ovation uses a light and gentle force to guide the teeth to their proper locations. Patients love In-Ovation because it works faster, meaning fewer visits to their orthodontist.
Using light, gentle forces, In-Ovation comfortably guides teeth into their correct locations. But more than that, it allows your orthodontist to achieve precise results to give you optimum facial proportion and esthetics. In-Ovation uses a patented clip that engages the wire to the braces, rather than the standard ties and elastics seen with standard braces. The free-sliding technology reduces the amount of friction placed on the teeth, allowing them to move more freely. And that means less discomfort for you. Your amazing results can often be achieved months faster than they would with traditional braces.
Additionally, the lower profile brackets are easier to keep clean and are resistant to staining. Your appointments with your orthodontist will be faster because there will be no changing out of elastics or tightening procedures, meaning you can be in and out and back to your busy schedule in no time.
Dr. Hajibaik offers three different types of In-Ovation braces for his patients. In-Ovation L MTM is a completely invisible option for patients who only need slight movement to achieve their ideal smile. In-Ovation R offers a smaller profile than other self-ligating brackets, and In-Ovation C offers translucent ceramic brackets.
There are more options than ever before to achieve the smile you've always wanted, and with minimal interruption to your busy lifestyle. With Dr. Hajibaik and his staff, you can be on the road to the gorgeous smile you deserve in no time. Call today to schedule a consultation to learn more about Invisalign and In-Ovation braces.