Invisalign FAQ – Alpharetta Invisalign Orthodontist Answers Invisalign Questions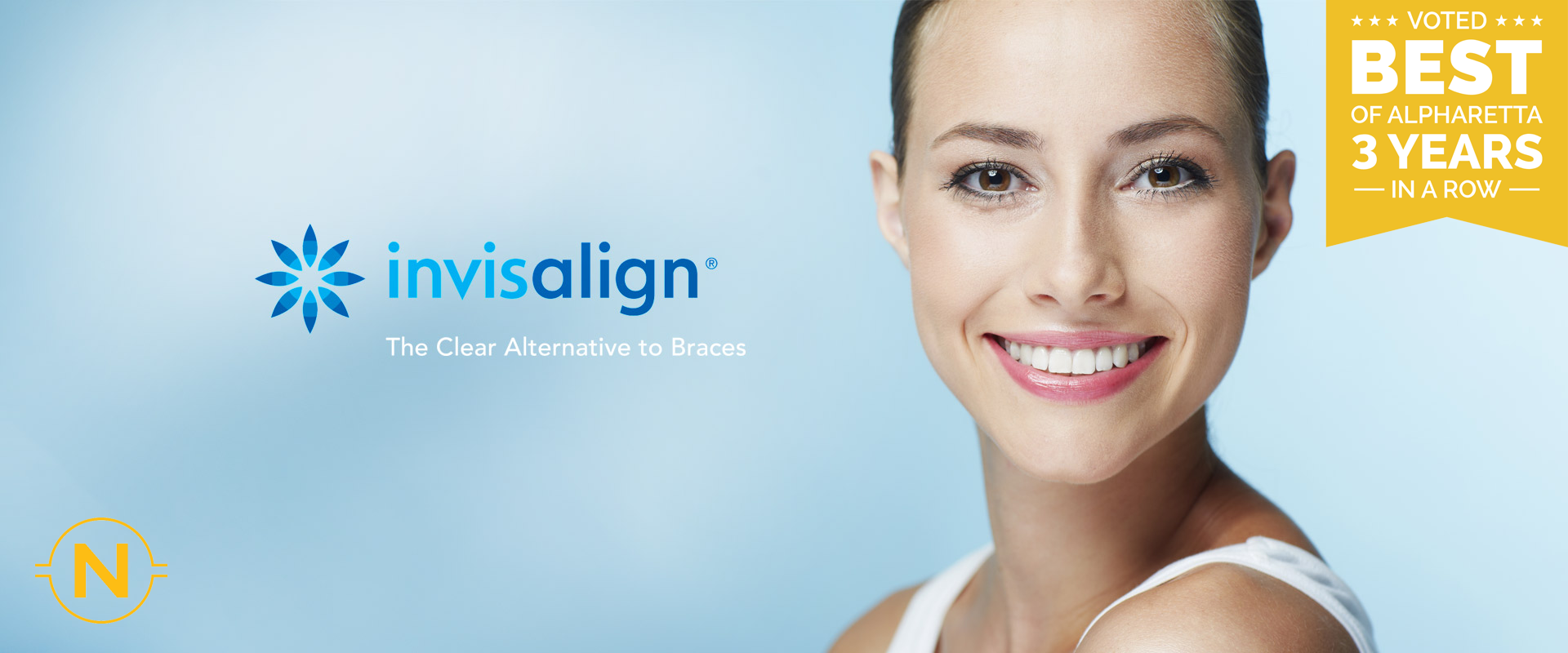 Invisalign is a revolutionary orthodontic treatment that allows patients to get a straighter smile while wearing clear, comfortable and removable aligners. But before choosing which treatment is right for you, Dr. Nima answers some common questions patients often ask about Invisalign.
"Patients love Invisalign for its ease of use and ability to fit into their lifestyles," says the Alpharetta orthodontist. "But there are definitely some things patients should know and understand before choosing Invisalign."
How do the aligners work?
Every patient is given a series of custom-made aligners that are perfectly calibrated and fitted to move their teeth to precise locations. Each set is worn for two weeks, during which time your teeth will move to a desired location, then the next set will move them a bit more, and so on until your ideal bite is reached. The aligners work to gently move the teeth, based on calculations made by your orthodontist before treatment started.
Is Invisalign as effective as standard metal braces?
Invisalign is as effective for many cases. However, Invisalign may not be the ideal choice for every patient. Some malocclusions are more complicated, and therefore might require the use of standard braces. The only way to know for sure if Invisalign is right for you is to schedule a consultation with an orthodontist. When in the hands of a skilled orthodontist such as Dr. Nima, Invisalign can provide a beautiful and functional smile.
What are the advantages to using Invisalign?
There are numerous benefits to Invisalign. The first is that the aligners are comfortable. The smooth plastic won't irritate the insides of your mouth as brackets and wires might. In addition to that, the aligners are virtually invisible. That means you can straighten your smile without drawing attention to it. The aligners are also removable, so you can better care for your teeth and gums while in treatment, and you don't have to alter your diet in any way.
Can the aligners get damaged?
It is possible for the aligners to become damaged. It is always recommended to remove your aligners when eating and drinking. Never drink hot beverages, such as coffee, with the aligners in as the change in temperature can warp the plastic, causing the aligner to no longer fit properly. It is also not recommended to smoke while wearing the aligners as they can become discolored.
Does caring for my teeth change while in Invisalign treatment?
Because the aligners are removable, you can continue to care for your teeth as always. However, it is especially important to brush and floss after eating and before placing the aligners back in your mouth. While tooth decay during treatment isn't common, it can happen. And the primary culprit is usually snacking and then immediately placing the aligners back in before properly cleaning the teeth. Because the aligners fit over the teeth, they can trap food particles. Always keep a toothbrush, toothpaste and dental floss with you so you can quickly clean your teeth after eating.
Can I take the aligners out for a social occasion?
To properly move the teeth, the aligners need to be worn the prescribed amount of time, which is 22 hours a day. The teeth can only move when the force is properly applied. For this reason, it is not recommended to take the aligners out for a social occasion. Remember, once you do it one time, it is easy to do it more and more.
Is treatment painful?
There is some discomfort involved anytime you move your teeth. You may feel some slight discomfort when you move from one aligner to the next, however, this should go away very quickly.
How long will treatment take?
Treatment times vary from patient to patient. That's because each case is different and each mouth responds differently to treatment. However, the average treatment time in Invisalign is 6-12 months.
Can't I just visit my dentist for Invisalign?
It is true that more dentists are offering Invisalign treatment in their offices now. However, it is important to remember that these dentists most likely simply completed a weekend course to become Invisalign certified. The best person to see to properly move your teeth is an orthodontist, who has the additional schooling and experience needed to understand even the most complex cases. A dentist may only be able to treat the simplest of cases but for majority of cases you will need to see an orthodontic specialist.
Watch This Video To Learn More About Getting Invisalign Through Dr. Nima of Newpark Orthodontics
If you think Invisalign may be right for you, or have additional questions, schedule a consultation with Our Alpharetta Orthodontist Dr. Nima today.
Related Post: