Newpark Orthodontics is ringing in the new year in style!
The New year is right around the corner! We're well into the season for generosity, goodwill, and giving, not to mention cookies, cakes, and candy.  If you're anything like us, you're probably still recovering from your holiday hangover!
Your friends here at Newpark Orthodontics have compiled a list of 10 teeth-healthy treats for you to grab this holiday season. While we know you can't wrap a better, brighter smile up in a box with a bow, you can certainly encourage a healthy one with these thoughtful items!
Flavored Floss
No one is ever going to accuse flossing of being anything other than a chore, but you can definitely up the fun factor by using flavored floss. We don't just mean boring bubblegum or mint, either. You can buy floss in flavors like bacon, waffles, cupcake, even pickle!
Flavored Toothpaste
We've got shelves full of the same old standbys like spearmint and cinnamon, but there's a whole world of flavored toothpaste out there to explore. Coffee. Curry. Pork. Pine. Eggplant?! You can turn your daily brushing into a culinary adventure.
New Toothbrush
We recommend you get a new toothbrush every three months or so, since daily wear and tear can decrease how effective the bristles are. For children, there are character brushes, brushes that light up, ones that play music, even toothbrushes with built-in timers. Toss one in their stocking to liven up their nightly routine!
Electric toothbrush
We don't know what it is about brushing before bed that makes kids try to avoid it like an actual plague, but it's a fight just about every parent faces at one time or another. Enter the electric toothbrush! Studies show they have no significant oral health benefits over manual toothbrushes, but there's something about all that whirring that kids seem to love, so grab one and check out the difference for yourself.
Teeth Whitening Kits
In recent years, a number of over the counter teeth whitening products have popped up on the scene. If there's someone on your Nice list who would appreciate the gift of whiter teeth, this is a perfect pick.
Sugar-free gum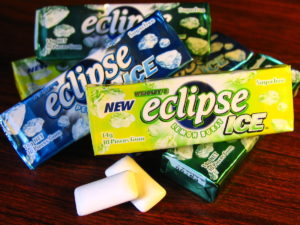 For the bubble-blower in your life, sugar-free gum is a great option. But keep in mind that this one comes with an exception: no gum for anyone wearing braces!
Mints
Does the thought of meeting a certain someone under the mistletoe fill you with dread? Combat bad breath by slipping mints, breath strips, and mini mouthwash into their stocking. It's a gift for them and you!
Lip balm
Dry winter air can wreak havoc on lips, leaving them sore and chapped. All of us benefit from a little lip balm from time to time, but it can be a real lifesaver for anyone in braces since they have a tendency to irritate your lips even more than normal.
Fruit
Growing up, my grandma would always fill our stockings with fresh fruit — usually apples, oranges, and bananas. It might seem kind of quaint in this era of electronics, but this is an especially good option for someone with braces. Fresh fruit can replace the more traditional chewy or hard snacks you might expect like nuts or dried fruit.
Chocolate
Bet you didn't expect to see candy on this list! But we're okay with chocolate in moderation, and it's actually one the best choices when it comes to treats for our braces-wearing patients, as long as it's plain chocolate and doesn't have any sticky caramel or crunchy nuts and toffee.  Sticky stuff can really mess up brackets and wires, and so can anything too crunchy or hard.
Our gift to you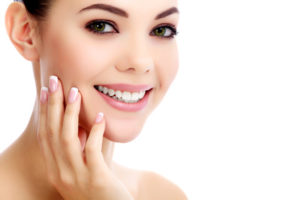 What if you're looking to surprise someone special with a gift that lasts into the new year and beyond? We can help! For a limited time, Newpark Orthodontics is offering our own New Years treat of $1000 off any treatment we provide in our office*. That includes traditional braces, Invisalign, Invisalign Teen, and any other procedures we offer. While it may not seem like the sort of present you'd expect to find under the tree, giving someone you love the gift of a straighter, brighter smile is something that will be remembered for years to come. Let Santa try and beat that!
Why Newpark Orthodontics
We have a unique approach to orthodontics here at Newpark Orthodontics. It's our goal to deliver more than just beautiful smiles, so we don't focus on only aligning teeth.  Alignment is merely a cosmetic change, and we want to be sure we also provide bite correction to our patients, leading to a stable jaw and setting the foundation for an overall healthy mouth.  Our Alpharetta Orthodontist & experienced staff go above and beyond to create an individualized treatment plan for every patient we see.
It's also important to us that we're able to accommodate the busy schedules of the patients and families we see. We offer early morning, late evening, and even Saturday appointments available for your convenience. Our team takes pride in always being available to our patients, no matter the time of year, day of the week, or time of the day! The people in our practice aren't just patients, they're family, and we want you to feel at home every time you walk through our door.
Newpark Orthodontics provides service for most of North Atlanta including: Cumming, John's Creek, Milton, Roswell, and Suwanee, GA.
Wherever you are and however you celebrate the new year this year, we hope it's very merry, and look forward to serving you in 2017!
*treatment must begin by January 31, 2017. Contact our office for more details.