Get Teeth Straight, White and Bright for Wedding Season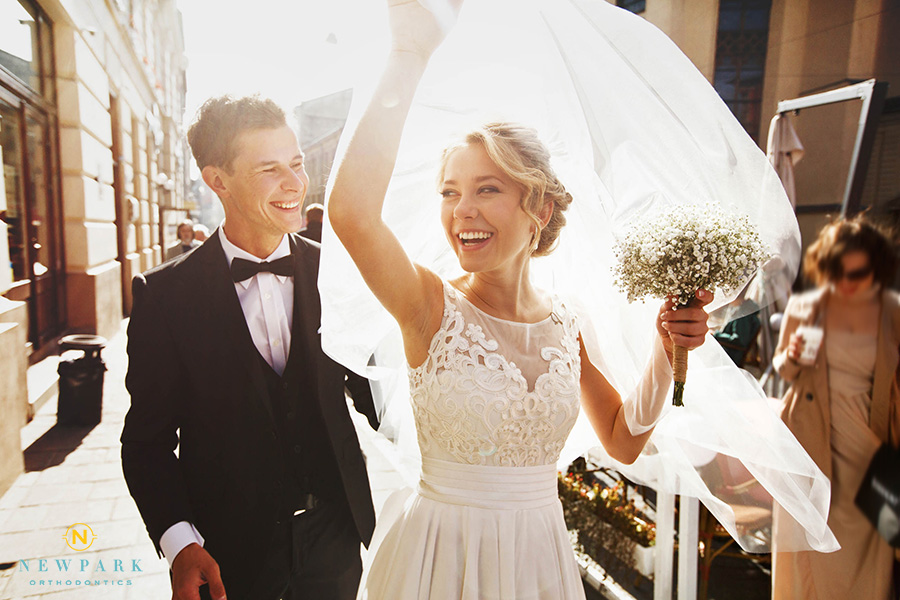 Lots of wedding bells ring in this month, which is one of the top three months when couples get married.
A great deal of preparation goes into this special day, and smile improvements often are a line item on the wedding preparation checklist in the months –and sometimes years – leading up to the big day.
If you're not pleased with your smile and you're planning a trip down the aisle in the next year or two, it might be time for an orthodontic evaluation. This isn't just about brides and grooms, either. Parents of the couple and wedding attendants might also consider orthodontic and teeth whitening treatments as they prepare for their wedding roles. After all, think of all those professional photos taken to commemorate the occasion. Everyone wants to look top notch in those keepsake photographs.
Aesthetics have taken center stage for many patients seeking orthodontic treatment and thanks to technology, we don't disappoint.
Invisalign is a great option because its clear, plastic aligners are virtually unnoticeable when worn. They're also removable, so you don't have to wear them in your wedding photos if your wedding date is before your treatment is complete.
We recently addressed a lot of Invisalign questions patients frequently ask. Check out this Invisalign blog post for more information.
Tooth-colored ceramic braces are another aesthetic option.
Although they are slightly more noticeable, patients who undergo treatment with In-Ovation braces may find that they finish treatment in record time. Getting evaluated and beginning treatment well in advance of the wedding day may enable you to complete treatment before you tie the knot.
Wearing White
The bride's dress shouldn't be the only thing that's white on this special day. You can get your teeth looking their best with teeth whitening treatment. Whitening is suitable for almost anyone, and treatments can make your teeth several shades whiter by removing years of stains caused by the foods and beverages you consume.
There are numerous types of in-office and take-home treatments available to those interested in achieving a megawatt smile in time for a special occasion. If you would like to learn more, feel free to ask one of the professionals at our Alpharetta orthodontist for some recommendations.