10 Celebrities Who Used Braces – See the Famous Celebrities With Braces #bracesface Before and After
When we think of celebrities, we often think of red-carpet-ready glamour, so you might not imagine braces as a popular accessory for the stars. But famous faces with braces are more common than you think! Many of our favorite entertainers have sported traditional braces or Invisalign to get their smiles ready for the spotlight and are part of the 45% of adolescents who wear corrective braces.
Take a look at these famous people with braces, or at least those who used them, find out more about the treatment they chose, and what treatment options are available to you with our talented team at Newpark Orthodontics!
Braces Celebrities or Celebs with Braces Look
1. Emma Watson
Emma Watson has been in the public eye since her Harry Potter days, and like most of the celebrities on this list, she worked on her acting career as hard as she worked on multiple social causes. She is certainly a natural beauty, but she also added to her good looks with the help of a beautiful smile. She had her traditional braces on for 4 months when she was 14 and has said that she decided to wear them because a smile is for life.
Since she got her braces off, Emma got her bachelor's degree in English literature and became a campaigner for gender equality, was appointed as UN Women Goodwill Ambassador for the HeForShe campaign and continued acting.
There is no doubt that Ms. Watson is smart and an exceptional human being, and we can see her beautiful smile in all of her movies, such as Beauty and the Beast, Little Women, and the recent Harry Potter Special 20th Anniversary. She also made philanthropy her passion and supports all projects that make her soul smile, on and off-screen.
2. Dakota Fanning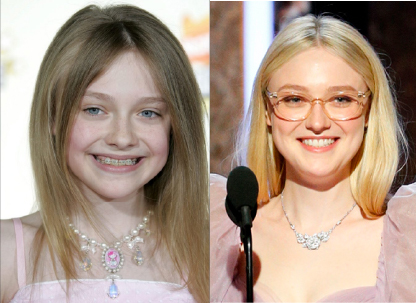 Dakota Fanning exemplifies good acting and is part of an unusual and small group of actors who had a thriving early start (at 5 years old) and an equally successful adult career. From her humble beginnings in a 1,999 Tide commercial to her outstanding performance at I Am Sam opposing Sean Penn.
Dakota basically grew up on camera, so we were able to watch her orthodontic journey unfold firsthand. She explained in various interviews over the years that she lacked the enzyme that breaks down the roots of the baby teeth.
Because of that deficiency, her primary teeth wouldn't fall out on their own, so every tooth she lost was one she had to have pulled. She's one of the actresses with braces who had to undergo very long and complex treatments. She had the full works–from expanders and headgear to braces and retainers–but judging by the beautiful smile, she's sporting these days.
Today, we are eagerly waiting for her upcoming roles in Gen: LOCK, The First Lady, The Nightingale, which is already in pre-production and due in December 2022, and many more to come. She definitely has many reasons to smile!
3. Gwen Stefani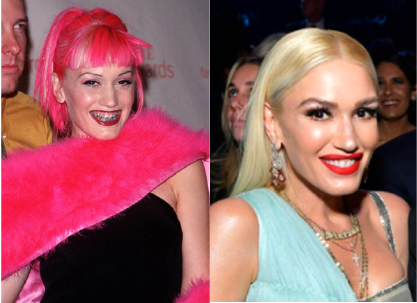 Gwen Stefani recently dropped her new song "Slow Clap", and we are clapping for her. She's got The Voice (meaning her actual vocal chops and her many appearances in The Voice US show as a couch), and -of course, she's got the looks! Gwen has always been known for her eclectic fashion sense, and that includes a brief stint wearing a full set of traditional metal braces as an accessory in the 90s. She may not have needed them to straighten her smile, but we love that she made metal so mainstream.
And she was sporting that smile during her latest nuptials with Blake Shelton. Congratulations Gwen and we can't wait to hear what's coming soon!
4. Jaden Smith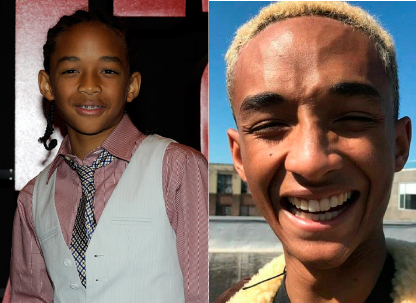 This karate kid lit up Tinseltown at 11 years old when he stepped out in a set of traditional braces. And because you always have to have what your big brother has, little sister Willow got her own set of traditional braces when she turned 12. This pair of celebrities with braces was not one to shy away from tried and true orthodontics.
Nowadays, Jaden is an advocate of healthy eating. It started due to an addiction problem he had on "Sugar" back in 2019. It all started as part of consuming way too many sugary products during his childhood and throughout his early adult years. Recently, Jaden discussed in his mom's Red Table Show his old struggles and how much of an impact a healthy diet has on one's body and teeth. We are now smiling with Jaden as he is in a much healthier state of body and mind.
5. Ariel Winter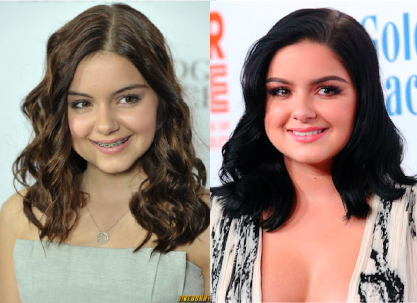 Modern Family was an American favorite TV show, and we had the pleasure to meet the lovely Ariel Winter, who used to play super-smart Alex Dunphy. During the second season, (when she was 13 years old) she had traditional braces put on in real life. It fit right in with her character, and even helped Ariel herself embrace them completely! In interviews, we could actually see her saying it was "cool to have glasses; and braces. I myself had braces, and I was kind of like, 'Oh, mom, I have braces, I don't like this,' and then finally I was like, 'You know what? The majority of young teenage girls in the world have braces. I'm going to embrace them.'"
Today the braces are off, and we see Ariel already in many roles. Her new comedy-thriller "Don't Log Off," film is coming, and she will also have a role in the upcoming crime movie "Crimelands." Way to go, Ariel!.
6. Chelsea Clinton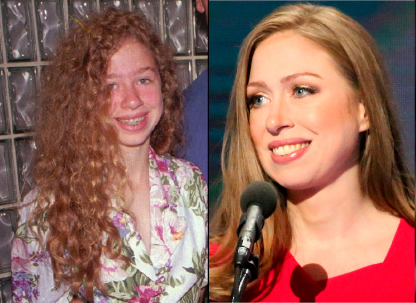 While the former First Daughter is now a poised professional, we can remember her also as a great example of famous people with braces. She spent some time in the White House in traditional braces.
After working ad a special correspondent for NBC News from 2011 to 2014, Chelsea kept herself busy working at the Clinton Global Initiative Foundation with a seat on its board. She also ran and finished the New York City Marathon last year. If her current confident smile is anything to go by, orthodontics in the Oval Office served her well.
7. Justin Bieber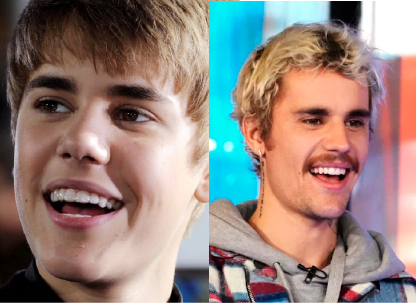 At the height of his days as a teen heartthrob, the Biebs invested in Invisalign braces, even posting a video to show them off. Invisible Invisalign is not only a great choice for celebrities with braces but also for the rest of us!
Justin wore them daily for about a year, only taking them off for eating and cleaning. When he flashes that familiar fantastic smile, the results speak for themselves! In 2018, he married American model, Hailey Bieber; and in 2021 they were all smiles at the Met Gala while walking the Red Carpet together.
8. Kendall Jenner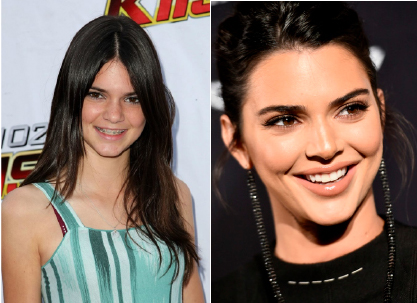 Kendall is our cautionary tale here. She had traditional metal braces at 13, but admits she didn't wear her retainer regularly. As a result, a couple of teeth went crooked after the braces came off. She decided to try out Invisalign braces when she was 16, and it's clear they worked for her, given her current model-straight smile. Kendall has been gracing the fashion world for a few years now, but she continues to collaborate with her sister Kylie in different clothing line collections.
9. Khloe Kardashian
Kendall's big sister Khloé joins the ranks of celebrities with braces. She opted for Invisalign braces in her late twenties. She already had a stellar smile but wanted to go the extra mile to shine in the spotlight.
Furthermore, she wore her customized set for just a few months, but her dentist said it took her smile from a "9.5 to a 12!" As all the Kardashians outgrew the success of their KUPWTK, the show ended in 2021. Today, Khloé is a proud mother and works as an executive producer in two shows, Revenge Body with Khloé Kardashian on E!, and Twisted Sisters on Investigation Discovery.
10. Kate Middleton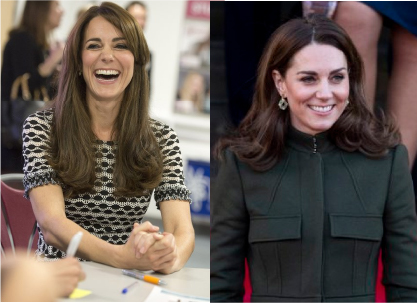 We count the Duchess of Cambridge in this group of famous people with braces. She was as pretty as a princess even before she married Prince William, and she can thank Invisalign for at least some of that loveliness! Kate saw a French orthodontist who specializes in an "imperfect" look of perfection by attaching the invisible braces to the backs of the teeth, instead of the front.
She kept these on for about six months before the couple's big day, giving her a radiant smile to walk down the aisle with. Today, the Duchess of Cambridge shares her smiles with her husband and three kids Prince George, Princess Charlotte, and Prince Louis in Kensington Palace while performing her regular royal duties.
Fortunately, you don't have to be heir to the throne to receive royal treatment from our experienced staff right here in Alpharetta!
Celebrities aren't the only ones who have a lot of choices when it comes to braces. So do you! Here at Newpark Orthodontics, we specialize in:
Metal Braces
Metal braces are the most commonly used type, and they are more comfortable and affordable than ever before. Made of stainless steel, they straighten your teeth using a combination of brackets and wires. Because they're customizable, you can even have colored elastic bands to fit your personality!
Ceramic Braces
Ceramic braces offer the effectiveness of metal braces with the benefit of being less visible. This is a great option for patients who are concerned with the cosmetic look of having braces because they aren't easily noticed. Patients do have to be more careful and selective in the foods they eat because the ceramic is more brittle than their steel counterparts.
Lingual Braces
Lingual braces are metal braces that are positioned behind the teeth rather than in front. This allows the braces to be completely unseen in your mouth. Lingual braces also are completely customized to fit the unique shape of your teeth. This type of brace is recommended for models, athletes, musicians, and professionals.
Invisalign is a set of removable, comfortable, and invisible aligners used to straighten your teeth. Because they are completely transparent, nobody can tell you are wearing them, and because the aligners aren't made of metal, they are also more comfortable and gentle on the mouth. A major benefit of Invisalign is that they are removable, meaning you get to eat and drink whatever you want while in treatment. Brushing and flossing are also much easier.
Invisalign
Invisalign is a set of removable, comfortable, and invisible aligners used to straighten your teeth. Because they are completely transparent, nobody can tell you are wearing them, and because the aligners aren't made of metal, they are also more comfortable and gentle on the mouth. A major benefit of Invisalign is that they are removable, meaning you get to eat and drink whatever you want while in treatment. Brushing and flossing are also much easier.
What's next
If braces do happen to be in your future, we'd love to spend some time with you here at Newpark Orthodontics discussing the options we have available! Dr. Nima is a highly trained and dedicated orthodontist, and we consider every patient's individual needs.
Our helpful, friendly staff will treat you like family from your first appointment, so call our Johns Creek Orthodontist today to set up your initial consultation. We offer this first visit free of charge. We'll have your smile ready for the red carpet before you know it!